Proceedings

Omar Alonso and Gianmaria Silvello: DESIRES 2018 - Proceedings of the First Biennial Conference on Design of Experimental Search & Information Retrieval Systems, Bertinoro, Italy, August 28-31, 2018. CEUR Workshop Proceedings 2167, CEUR-WS.org 2018
Program
Program Overview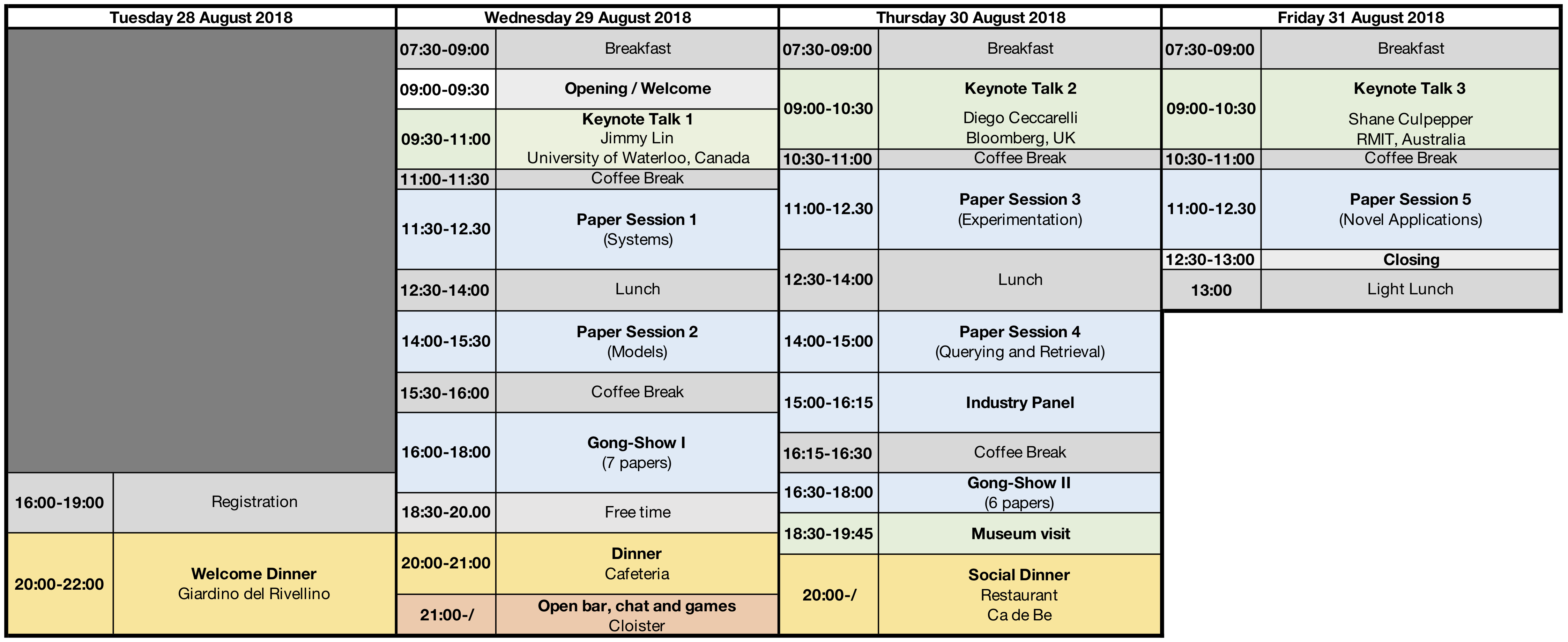 Welcome Dinner: Giardino del Rivellino
Social Dinner: Ca de Be
Keynotes
The first keynote speaker is Jimmy Lin, Professor and the David R. Cheriton Chair in the David R. Cheriton School of Computer Science at the University of Waterloo.
Title of the keynote:
Computing without Servers, V8, Rocket Ships, and Other Batsh*t Crazy Ideas in Data Systems
---
The second keynote speaker is Diego Ceccarelli, Software engineer at Bloomberg LP based in London, UK.
Title of the keynote:
Learning to Rank at Bloomberg - From Theory to Production
---
The third keynote speaker is Shane Culpepper, Vice-Chancellor's Principal Research Fellow, Director of the Centre for Information Discovery, and Professor at RMIT University in the School of Science.
Title of the keynote:
Balancing ​Efficiency and Effectiveness ​Trade-offs in Large Scale Multi-Stage Search Engines
Detailed Schedule
Click the title to download the pre-print version of the papers
Wednesday 29 August 2018
Session 1: Systems
Emre Kiciman and Jorgen Thelin
Johannes Kiesel, Arjen P. De Vries, Matthias Hagen, Benno Stein and Martin Potthast
---
Session 2: Models
Jussi Karlgren and Pentti Kanerva
Jeffrey Dalton and John Foley
Hamed Zamani and Bruce Croft
---
Gong-Show I
Matt Lease
Dennis Dosso
Shane Culpepper
Rodger Benham
Benjamin Hättasch
Stefano Marchesin
---
Thursday 30 August 2018
Session 3: Experimentation
Mucahid Kutlu, Tyler McDonnell, Aashish Sheshadri, Tamer Elsayed and Matthew Lease
Monica Marrero
Craig Macdonald, Richard Mccreadie and Iadh Ounis
---
Session 4: Querying and Retrieval
Rodger Benham, Shane Culpepper, Luke Gallagher, Xiaolu Lu and Joel Mackenzie
Eugene Yang, Dave Lewis, Ophir Frieder, David Grossman and Roman Yurchak
---
Industry Panel
The goal of the panel is to discuss topics that are of importance in industrial settings and may not be of significance in academia. Moreover, another goal is to examine problems, emergent trends, and their implications for the future of the field.
Speakers
Emre Kiciman, Microsoft

David Lewis, Cyxtera

Mark Najork, Google

Tony Russel Rose, UXLabs
---
Gong-Show II
Marc Najork
Giorgio Maria Di Nunzio
Chris Stahlhut
David Lewis
Alberto Purpura
Jan-Christoph Klie
---
Friday 31 August 2018
Session 5: Novel Applications
Sindunuraga Rikarno Putra, Kilian Grashoff, Felipe Moraes and Claudia Hauff
Chris Stahlhut, Christian Stab and Iryna Gurevych
Tony Russell-Rose and Phil Gooch